In July, 2016 a message was received by International Water and Health Alliances (IWHA) from IWHA President and microbiologist Robert (Bob) Metcalf, who was in Kenya at the time with his wife Dr. Mary Beth Metcalf
Mary Beth and I are back in Nairobi for the week, after a great week in Lower Nyakach, staying at Dinah Chienjo's home and visiting the FOTO project.
Dinah is the founder of the Friends of the Old (FOTO) project. FOTO was established in part to support a safe water project that includes training individuals in remote villages to test their own water resources with the Portable Microbiology Laboratory (PML) developed by Bob Metcalf to detect the bacteria Escherichia Coli (E-coli). This bacteria is associated with water borne diseases including Typhoid, Cholera and Diarrhea. Those trained in detection are also taught how to make water safe by using simple cardboard and aluminum foil solar cookers which they make themselves to pasteurize water. They are also taught to make contaminated water safe through treatment with a chlorine based product (Aguaguard) to kill the bacteria. This product is also provided along with the PML to community residents by IWHA with the help of donor support. In addition, participants in the program have also received improved cook stoves, a hot pot or hay basked for maintaining food temperature after it has been removed from the solar cooker. Village residents have also received improved seed and reading glasses which has enabled them to start small local businesses such as creating and repairing clothing.
 We visited 18 grandparent households, participated in a reading glasses distribution in Nyalunya, shared water testing methods with students at Ragen Secondary school and with half a dozen school principals, and met with chiefs from 10 locations. In all visits and conversations, we were told that 'stomach problems' were absent with FOTO's strategy of testing, teaching, and provision of Aquaguard to all households and schools. I was reminded of what extreme poverty was like, but encouraged that waterborne diseases no longer plague the 70,000 people of Lower Nyakach. IWHA's support has enabled this.
I just received an article that was sent to all IDEXX staff members around the world on July 9th. It reflects how supportive IDEXX is of the effort to bring world-class microbiology to the poorest places on the planet, as a key step towards eliminating waterborne diseases.
 IDEXX is one of two U.S. companies from which IWHA purchases water testing materials (the Colilert test) that are included in the PML. The other company from which IWHA purchases testing materials is 3M which manufactures the Petrifilm. Bob has asked that the article referenced above be added to the IWHA web site. He also sends Kenya greeting to all who read this article.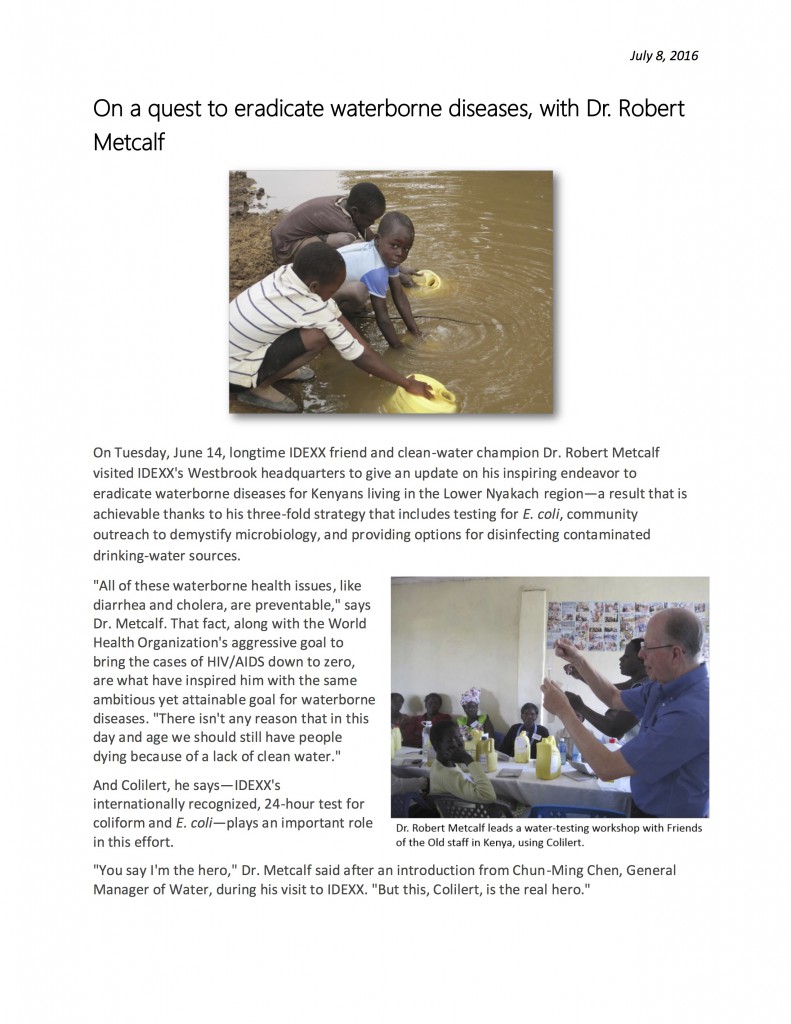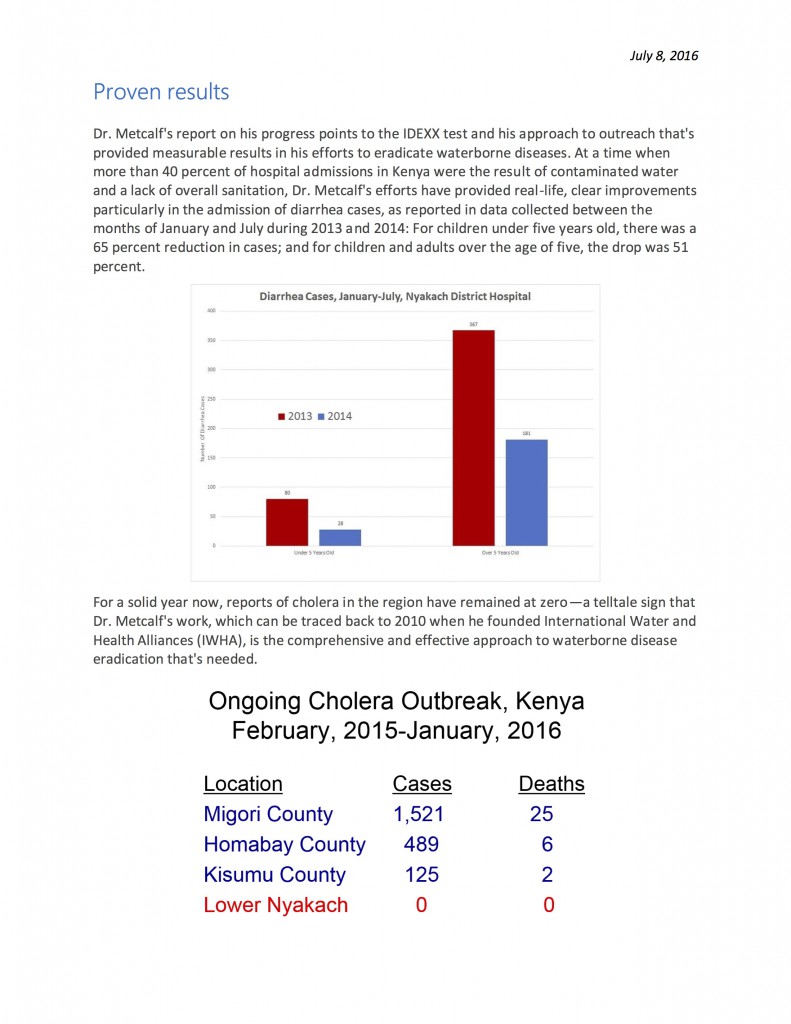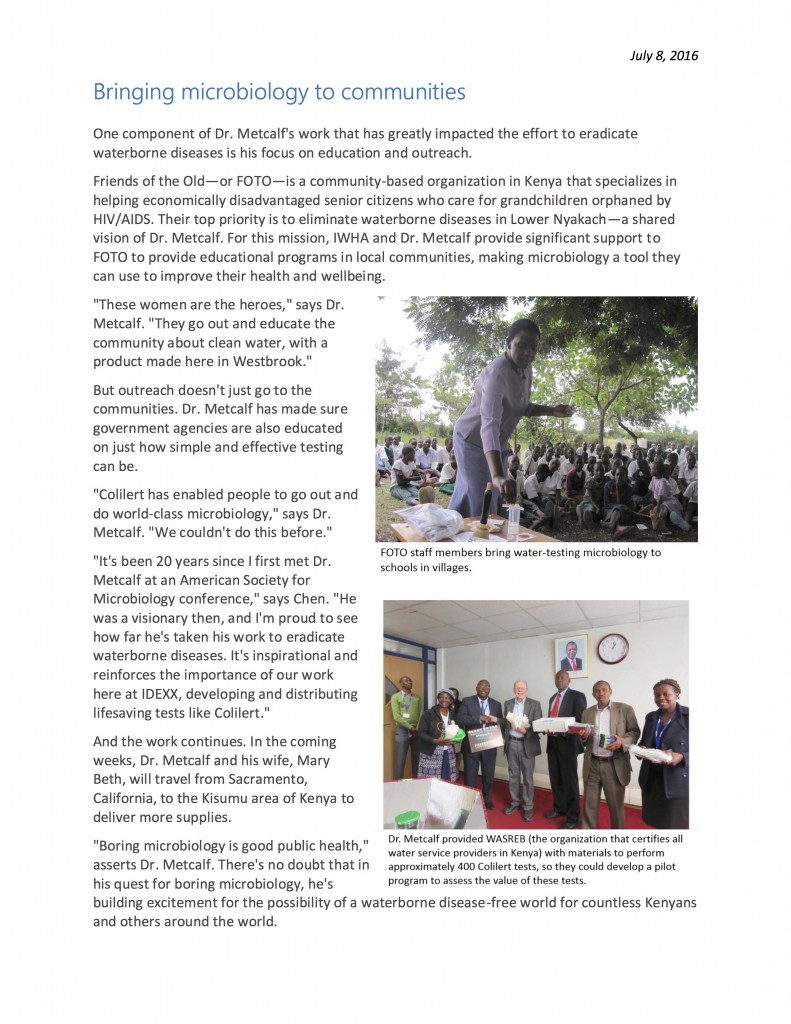 Download the PDF of the July 2016 Metcalf Update Here: