2015 Kenya Cholera Outbreak and Response
Dinah Chienjo, Director of  the FRIENDS OF THE OLD (FOTO) program which is supported by International Water and Health Alliances (IWHA) recently  reported on the February outbreak of Cholera in Migori and Homa Bay Counties in Kenya.
The following photograph shows part of the Department of Nyakatch, Kenya. Katito is the location of the IWHA office. The outbreak of cholera occurred in Migori and Homa Bay counties which are to the left or west of Katito.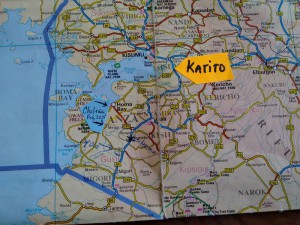 INTRODUCTION
In February, Kenyan newspapers reported a cholera outbreak in Migori and Homa Bay Counties. Initial reports indicated there were 7 fatalities and 140 people were admitted to the Cholera Treatment Centre for treatment and for clinical observation. (Additional information regarding those affected as reported by Relief Web will be included later in this report.) IWHA President, Dr. Robert Metcalf, became aware of the outbreak online and spoke directly with Dinah Chienjo and his friend, Dr. Kepha Ombacho, National Director for Public Health and Sanitation, Kenya Ministry of Health.  Dr. Metcalf suggested to Ministry Director, Dr. Ombacho that FOTO staff could help alleviate the current cholera outbreak because of their ability to carry out water testing and water treatment effectively to prevent spread of the disease.  The offer to assist was accepted and Dr. Metcalf sent funds to provide travel and expenses for FOTO staff and testing and treatment materials. Following a discussion between Dr. Ombacho and Dinah Chienjo, four members of the FOTO team initially traveled to the community of Rongo in Migori County.
Additional information to follow…
The FOTO and Ministry team                         Explaining cholera, how it is spread and                                                                                         controlled.
Collecting water samples                                 Preparing water samples for testing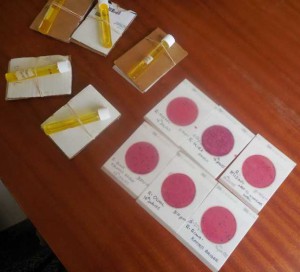 Following overnight testing, the samples of water are found to contain high levels of Escherichia Coli or E-coli associated with cholera, typhoid, hepatitis A and polio. The decision is to treat the drinking water with Waterguard which is a chlorine product to kill the bacteria. Once treated the water can be used for safe drinking water.
The followup will be additional training of community residents in water testing and treatment. Community representatives will also keep the the Ministry of Health informed of any additional cases of cholera. Community leaders trained in testing and treatment will also travel to additional communities to train others in these techniques. Community members and FOTO staff will meet with Ministry of Health officials to discuss future distribution of chlorine treatment products such as Waterguard.  A 25 cent (U.S.) bottle of this product will treat 1000 liters of water and help to prevent the spread of cholera.

The cost of testing materials is approximately 70 U.S. dollars and provides a total of 50 tests for E-coli.  The kit for testing is referred to a Portable Microbiology laboratory (PML). Almost anyone, regardless of their educational background can be taught to use the PML in about 3 to 4 hours. The Ministry of Health is encouraged to obtain these tests for use in the field.
All testing materials within the PML kit fit in a gallon size zip lock bag. Those materials include 25 Petrifilm tests by 3M, 25 Colilert tests by IDEXX, 25 water collecting bags, 25 pipettes, infrared battery powered light, spreader to evenly spread water sample on Petrifilm, marker to identify water sample source.
2014
In March, Friends of the Old (FOTO) Director, Dinah Chienjo was invited to speak at the United Nations Commission on the Status of Women. Her presence was co-sponsored by the professional women's association, Soroptimist International. The title of Dinah's presentation was Solar Cooking: Power to Change Women's Lives.  She also participated in a second presentation titled, Achieving Equal Access for Women to Technology and Employment. This event was co-hosted by the International Council of Jewish Women.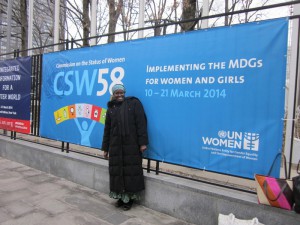 In September, IWHA President Robert Metcalf was invited to give a presentation in Lisbon, Portugal at the World Water Conference titled, Shaping our Water Future. The talk was directed to planning officials and  water professionals from all parts of the world.  Highlighted in the presentation was the IWHA supported Friends of  the Old (FOTO) project in Kenya and water testing and treatment using the Portable Microbiology Laboratory (PML).  A hands-on demonstration of the water testing procedure and an instructional poster highlighting the testing procedure was also prepared for participants.
2013
Patrick Widner, Executive Director of IWHA was invited by Habitat for Humanity to provide water testing training in Haiti. The participants included members of the Habitat for Humanity Disaster Response Team. In addition, the Simon Pele community organization also received training.